Application
Methods of Application
A Full Head of Hair Extensions can be obtained using 4 various methods or various combinations of both designed to suit individual types of hair, needs and requirements:

2 x double layered human hair wefts + 20 Micro-cylinder singles, the singles are used to fill in the sides of your head and the wefts are used at the back (recommended for fine hair); 1 x double layered human hair weft + 80 Micro-cylinder singles (recommended for fine to medium hair);125-150 Micro-cylinder singles (recommended for medium to thick hair). 3 x double layered human hair wefts. The permanent/long term method is ideal for every day wear, great for the summer months! Dress & go! And for an extra special touch, simply clip in an additional weft for additional length & fullness. Allow approximately 45 minutes for a full head of hair extensions
Tape Extensions - The safest and preferred method of hair extensions!
1/2 head of tape hair (20 tape extensions) to obtain additional volume - Application time: 15 minutes.
Full head of tape hair (40 tape extensions) to obtain additional volume and length - Application time: 30 minutes.
TAPE EXTENSIONS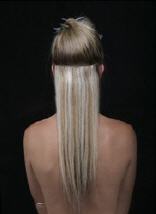 Tape extensions are seamless without bumps. No clips or chemicals, it's very fast when applying (45 minutes for a full head!). Skin weft extensions lie flat to the head and feel just like your natural hair, unlike bulky rows when wefts are weaved in hair etc. Skin-wefts are made with hand-knotted human hair on very thin mono-mesh based (with polyurethane coating). Skin Wefts are great for adding lengths and fullness. These wefts are very flat and when placed on the hair it disappears and gives the illusion of growing from the scalp. The Skin Weft Hair Extension adds volume and length to your existing hair; you may even do a full head using just the Skin Wefts! It can be used to make your hair look thicker (due to thinning or damaged hair), or longer! It is truly the most natural type of hair extension on the market.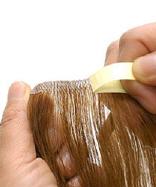 Unlike any other method of hair extensions, re-applications can be between 3 - 4 months! It is versatile and represents the latest advancement in the hair extension industry. It is great for thinning hair, baldness or those that have a full head of hair but are looking to add volume or length! You can create those dynamic hair styles of the celebrities with these incredible hair extensions. "
Micro-ring Method (permanent application)
A few strands of extension hair are attached at a time using a small ring – the Micro Ring – which is clamped to tightly hold the extension hair to the natural hair.
A few strands of extension hair along with the client's natural hair is crocheted through the Micro Ring using a micro ring bead puller. The ring is then closed flat using a hair plier, sealing the extension and natural hair together.
The rings are compact and flat. Each strand of hair extension weighs 1 gram and 22" – 24" inches long and can be cut, coloured and styled as desired.
This method will last 3 months. It is advised that you replace or remove your Micro Ring extensions after 8-12 weeks to keep them in their best condition and to stop them from becoming visible as the natural hair continues to grow.

Clip-on Weft (temporary application)
A clip-on Weft is removable daily, remove before sleeping and is longer wearing.
Ideal for ladies with thin fine hair as this temporary wearing of hair alleviates undue pressure on thin hair whilst achieving a full head of hair during the day.
EZY Weft (permanent application)
The Ezy Weft is a revolutionary method for attaching Wefts.
Micro Rings are pre clamped onto a weft. The Weft is then attached via the micro rings just like the micro-ring method.
The Ezy Weft requires re-application every 8-12 weeks.